What is Cloud Computing?
Cloud computing is a general term for anything that involves delivering hosted services over the Internet. These services are broadly divided into three categories: Infrastructure-as-a-Service (IaaS), Platform-as-a-Service (PaaS)and Software-as-a-Service (SaaS). The name cloud computing was inspired by the cloud symbol that's often used to represent the Internet in flowcharts and diagrams.
A cloud service has three distinct characteristics that differentiate it from traditional hosting. It is sold on demand, typically by the minute or the hour; it is elastic -- a user can have as much or as little of a service as they want at any given time; and the service is fully managed by the provider (the consumer needs nothing but a personal computer and Internet access). Significant innovations in virtualization and distributed computing, as well as improved access to high-speed Internet and a weak economy, have accelerated interest in cloud computing.
A cloud can be private or public. A public cloud sells services to anyone on the Internet. (Currently, Amazon Web Services is the largest public cloud provider.) A private cloud is a proprietary network or a data center that supplies hosted services to a limited number of people. When a service provider uses public cloud resources to create their private cloud, the result is called a virtual private cloud. Private or public, the goal of cloud computing is to provide easy, scalable access to computing resources and IT services.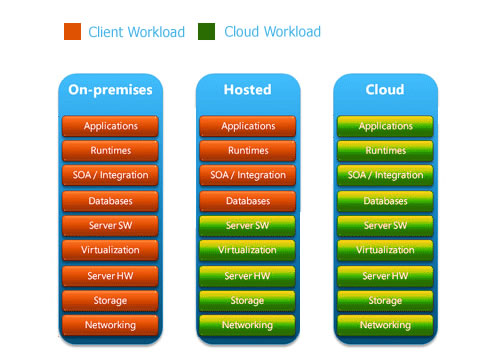 Advantages of Cloud Computing
Clients would be able to access their applications and data from anywhere at any time. They could access the cloud computing system using any computer linked to the Internet. Data wouldn't be confined to a hard drive on one user's computer or even a corporation's internal network.

It could bring hardware costs down. Cloud computing systems would reduce the need for advanced hardware on the client side. You wouldn't need to buy the fastest computer with the most memory, because the cloud system would take care of those needs for you. Instead, you could buy an inexpensive computer terminal. The terminal could include a monitor, input devices like a keyboard and mouse and just enough processing power to run the middleware necessary to connect to the cloud system. You wouldn't need a large hard drive because you'd store all your information on a remote computer.

Corporations that rely on computers have to make sure they have the right software in place to achieve goals. Cloud computing systems give these organizations company-wide access to computer applications. The companies don't have to buy a set of software or software licenses for every employee. Instead, the company could pay a metered fee to a cloud computing company.

Servers and digital storage devices take up space. Some companies rent physical space to store servers and databases because they don't have it available on site. Cloud computing gives these companies the option of storing data on someone else's hardware, removing the need for physical space on the front end.

Corporations might save money on IT support. Streamlined hardware would, in theory, have fewer problems than a network of heterogeneous machines and operating systems.

If the cloud computing system's back end is a grid computing system, then the client could take advantage of the entire network's processing power. Often, scientists and researchers work with calculations so complex that it would take years for individual computers to complete them. On a grid computing system, the client could send the calculation to the cloud for processing. The cloud system would tap into the processing power of all available computers on the back end, significantly speeding up the calculation.
Disadvantages of Cloud Computing
Perhaps the biggest concerns about cloud computing are security and privacy. The idea of handing over important data to another company worries some people. Corporate executives might hesitate to take advantage of a cloud computing system because they can't keep their company's information under lock and key.
Privacy is another matter. If a client can log in from any location to access data and applications, it's possible the client's privacy could be compromised. Cloud computing companies will need to find ways to protect client privacy. One way is to use authentication techniques such as user names and passwords. Another is to employ an authorization format - each user can access only the data and applications relevant to his or her job.